The Vita Traductiva collection is pleased to announce its 11th book, on a particularly timely topic:
Traduire les voix de la nature / Translating the Voices of Nature 
Edited by Kristiina Taivalkoski-Shilov and Bruno Poncharal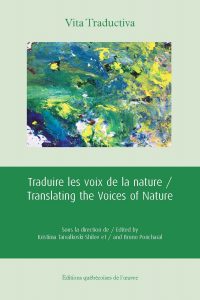 Following the ecocritical shift in the humanities and social sciences, Translation Studies is beginning to explore the ethical considerations for translation of reexamining humans' relationship with nature. Nonetheless, few scholars have studied how particular voices of fauna, flora, natural forces and different ecosystems are represented from one language to another, and how these voices of nature can be silenced, misread, or creatively recreated in translation. Drawing on several linguistic contexts (Canada, England, Finland, France, Japan, Poland and Switzerland), the essays in this volume examine a variety of issues (natural imaginaries, animality and subjectivity, intentionality, anthropomorphism, rewriting). Overall, they confirm the importance of reconceptualizing translation to include non-human and human communication, and sketch out the contours of a new, ecocritical translation practice.
Kristiina Taivalkoski-Shilov is Professor of Multilingual Translation Studies at the School of Languages and Translation Studies, University of Turku, Finland.
Bruno Poncharal est professeur et directeur du Centre de recherche en traduction et communication transculturelle (TRACT), à la Sorbonne Nouvelle
Articles by : Lucile Desblache, Mathilde Fontanet, Martine Hennard Dutheil de la Rochère, Wioleta Karwacka, Daniela Kato, Bruno Poncharal, Kristiina Taivalkoski-Shilov, Agnes Whitfield