Edited by Christine Raguet et Vidya Vencatesan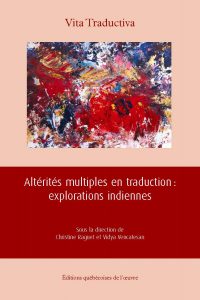 The literatures and cultures of India, in their rich profusion, offer a particularly fertile terrain for translators and translation scholars. Skillfully combining theoretical and practical reflections, the essays in this volume reveal the extent to which alterities are multiple and inventively entangled. Papers discuss translations into French (Sattasaī (Prakrit), Vedānta Deśika (Sanskrit and Tamil), Jibanananda Das (Bengali), Javed Akhtar (Urdu)) and Indian languages (Madame Bovary (Marathi), Markoosie (from Inuktitut into Hindi via French)), as well as translative (William Jones) and editorial (OUP) practices, and intercultural teaching (Tagore) in the Anglo-Indian context. From these Indian explorations emerge new ways to conceptualize the interplay of cultural discordances, the interweaving of relay languages, and the sometimes surprisingly creative relations among "familiar" and "distant" alterities.
Christine Raguet is Emerita Professor of translation and Translation Studies at the Sorbonne Nouvelle and literary translator.
Vidya Vencatesan is Professor of French literature, translator and Director of the  Centre for European Studies at the University of Mumbai.
Articles by : Nalini Balbir, Philippe Benoît, Jayant Dhupkar, Jean-Marie Fournier, Chitra Krishnan, Mini Krishnan, Sanjay Kumar, Christine Raguet, Vidya Vencatesan, Agnès Whitfield
Order Form/Bon de commande : editionsquebecoisesdeloeuvre@bell.net