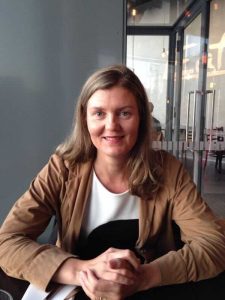 Kristiina Taivalkoski-Shilov has a PhD from French Philology and Translation Studies (University of Helsinki, 2003). Since August 2016 she is Professor of Multilingual Translation Studies at the University of Turku (Finland). Previously she was been employed by the University of Helsinki (Lecturer in Translation Studies 2004-2005, 2010-2016, Research Fellow at the Helsinki Collegium for Advanced Studies 2005-2009), where she has the title of Adjunct Professor (2013). Taivalkoski-Shilov is a member of the Nordic research group "Voices of Translation: Rewriting Literary Texts in a Scandinavian Context," and she has published widely on translation history and on the concept of voice in translation.
Her publications include: La tierce main: Le discours rapporté dans les traductions françaises de Fielding au XVIIIe siècle (2006), "Translating for a Good Cause: Le Nègre comme il y a peu de Blancs (1789) and its two English translations (1790)" (2009, Target 21:2), La Traduction des voix intra-textuelles/ Intratextual Voices in Translation, co-edited with Myriam Suchet (2013, Vita Traductiva), and "Friday in Finnish: A Character's and (Re)translators' Voices in Six Finnish Retranslations of Daniel Defoe's Robinson Crusoe" (2015, Target 27:1).
Taivalkoski-Shilov was the chair of the organizing committee of the XIII Symposium on Translation and Interpretation (KÄTU 2015), entitled Communities of Translation and Interpreting.